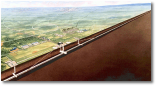 Getting Started with JLC
[ English | Japanese ]

The JLC group consists of particle and accelerator physicists who have been involved in the feasibility studies for the realization of the JLC project, and those who intend to join forces to further promote the project. This group always welcomes everybody who shares the same goal. This page provides information for those who are interested in the JLC project and intend to join the project.

For details of subgroup activities, make use of the pointers to subgroup home pages.
General Information on the JLC Group
Send an e-mail to webmaster@www-jlc.kek.jp for more information on the JLC group.
See the following references for more details:
Invitation to Each Subgroup

Back to JLC Home Page
---
Mail to: webmaster@www-jlc.kek.jp
Tue, 17 Sep 2002 09:41:29 +0900