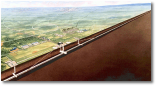 JLC Contact Information
[ English | Japanese ]

Thank you for your interest in contacting us at the JLC project.
Joining Our Project
We have Getting Started with JLC web page. Please visit this page.
Web Contents
Contact person's email address is given at the bottom of each pages. If you cannot find contact person, please contact with webmaster via email.
Postal Address

KEK
1-1, Oho
Tsukuba-shi, Ibaraki-Ken
305-0801 Japan

---
Last Update: Tue Jan 22 11:09:07 JST 2002
Contact: webmaster@www-jlc.kek.jp